Bob Wearing

Bob Wearing, Teresa Cornell, and M.D. Marshall July, 1975 at Richie County
Speedway. Photo sent by Teresa Barley.

This is the Bill Rice owned #28 "Hardtop" that really put Wearing on his way
to legendary status in the western PA area. The car was a 1938 Plymouth
coupe powered by a Hudson 6-cylinder engine, the hot set-up of the time. At
one point Rice owned a whole fleet of "Hardtop" coupes, all housed in his
garage/back yard under his house on route 68 in Evans City. That is where
this photo was taken in September of 1962. Rice's fleet, all rather battered
like the #28, included numbers 8 (Jim Irvine), 38 (Frank Choura) and 808,
which had several different drivers. After Wearing moved up to Late Models,
Rice's son Bob took over the #28 cars and won more than his share in the late
60s/early 70s. Bob Rice passed away recently, but the number 28 has been
kept alive by Modified driver Tommy Winkle, whose wife is Bill Rice's
granddaughter. Photo and Caption by Walt Wimer.

I think this is the second car that Dunk Pakozdi owned for Wearing, shown
here in 1966 at the Sharon Speedway when that track was a quarter-mile bull
ring. Ironically I ran into Dunk just a couple of weeks ago at a shopping
center just a few minutes from here and he told me this car was bought from
Bob James, himself a legendary driver from the Penn-Ohio area. Pakozdi is
still active in the sport as an engine builder and can be found in the pits most
nights at Lernerville. Photo and Caption by Walt Wimer.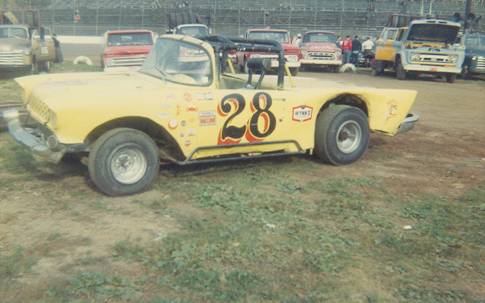 Later in 1966 at Heidelberg during the weekend of the last running of the
"Pittsburgh 100" on dirt. Dunk tells me that this is not the same '57 Chevy
as the blue one from James and by that time they had changed to the yellow
color that would be the Wearing-Pakozdi trademark for many years, even
after the change to 1 as a car number. Some of you from outside the western
PA area may be surprised at the convertible bodies!! But such were quite
popular in the later 60s around this area before they lost favor in the 70s as
the Chevelles, and later Camaros, replaced the "older" bodies. That last dirt
race at Heidelberg will always stand out in my mind as one of the best I have
ever seen. Dick Mitchell, James, Moose Myers and NASCAR broadcaster
Benny Parsons ran in a pack fighting for the lead for maybe 40-50 laps before
Michigan driver Mitchell drove his yellow #27 Ford to the win. I can still
remember James telling Mitchell, "If they didn't like this one then they had
best not come to the races" or words to that effect. 38 years later I still
remember it...I wonder if Benny does!! Photo and Caption by Walt Wimer.

Bob Wearing at Elkins, West Virginia Speedway in 1971. Photo by Greg Lee.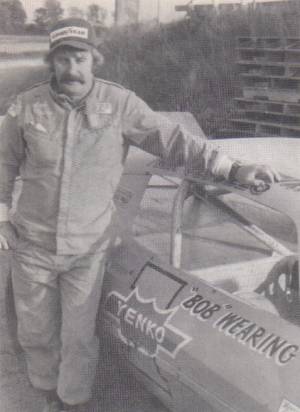 Photo sent by Mike Roland

BobWearing at North Hills, Pennsylvania Speedway in Roger's #87
takes the feature win. Photo sent by Roger Richards.

Bob Wearing at the 1984 Hillbilly 100. Photo by Roger Warrick